Cancer-PRIME™
Cancer-PRIME™ Service is a cancer gene analysis service that provides analysis results related to precision medicine (anti-cancer drug)
information with bioinformatics and the detection of various gene mutations through NGS technology (Next-Generation Sequencing analysis).
This service is targeted for genes related to anti-cancer drugs that are currently under clinical trials or the FDA drug approval process and
the hotspot areas selected based on Korean and international databases.
This service can offer useful information for personalized and customized precision medicine to investigate gene mutations responsible
for causing cancer and to monitor cancer development.

Cancer-PRIME™'s DNA Panel KIT is a Panel Sequencing Kit that has been self-developed by Clinomics and it can sequence with rare allele frequency
by enriching the target gene using an amplification method for Tissue(FFPE), ctDNA(cell-free DNA) and ctcDNA(circulating tumor cell's DNA).
This KIT only needs extremely small amounts (1-10ng) of ctDNA (circulating tumor DNA), cfDNA (cell-free DNA) and FFPE samples
for sequencing and mutations of 51 actionable genes can be detected with 1% LOD (Limit of Detection).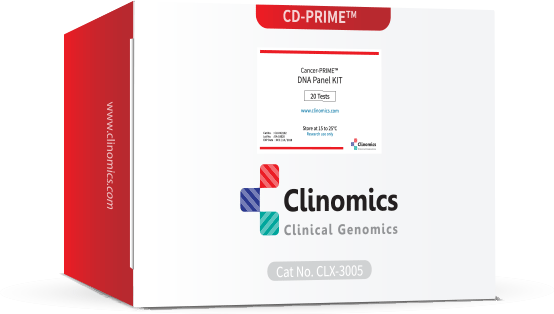 Strengths
Can concentrate CTC by only using the whole blood without special pretreatment

Can concentrate CTC through PMBC depending on the clinical condition

Can analyze ctDNA and exosome through simultaneous separation of plasma Can completely automate the blood treatment process, eliminating the need for a highly skilled experimenter

Certified as a Class I medical device in the Ministry of Food and Drug Safety, FDA (USA), CE (EU).
Examination Procedure


For research use only. Not to be used for diagnostic procedures. ©2019 Clinomics Inc.
All trademarks are the property of Clinomics Inc. IsoFluxSystem™ is a trademark of Fluxion Biosciences